There is no question that fixed-income investing has gone from challenging to nightmarish this year. People who depended on regular coupon payments from their government bonds at an already low yield of about 2% at the start of 2020 (the 10-year issue) now have to make do with one-third of that much.
But as I argued back in April, I think that government bonds have a place in a diversified portfolio – not for their yields, but as a cushion to fluctuating stock prices. To test if treasuries as a diversification tool have been working in a near-zero rate environment, one of my key concerns once the US central bank lowered short-term interest rates as much they could in 2020, I ran the numbers on the iShares 20+ Year Treasury Bond ETF (TLT).
Credit: The Balance
As a quick summary to those unfamiliar with this particular fund, TLT currently holds nothing but nominal treasuries with average maturity of 26 years. BlackRock charges a management fee of 15 bps that now looks higher than usual, when compared to a 1.4% average yield to maturity. TLT is a highly liquid ETF that changes hands at a rate of about 10 million shares per day.
A look at 2020 trends
The correlation between stock prices and treasury yields has been rising over the decades. For clarity, this is equivalent to saying that the correlation between stock prices and bond prices has been declining. This has been a favorable secular development for investors who seek diversification using the traditional stock-bond strategy. See graph below.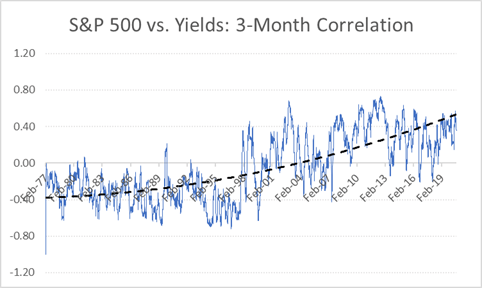 Source: DM Martins Research, data from Yahoo Finance
Once the COVID-19 crisis hit, correlations reversed course. As the graph below depicts, the three-month average correlation between the S&P 500 and 30-year treasury yields headed quickly to less than its long-term average. But this is to be expected, as panicked investors in all asset classes briefly rushed for the exits in search for cash.
The better news is that, even with treasury rates much lower, correlations returned to pre-pandemic levels (the second blue arrow below). Diversification found its footing once again. As a side comment, notice how correlations began to drop sharply once again in early September, following what I have described as the second (but much milder, so far) market-wide panic attack of the year.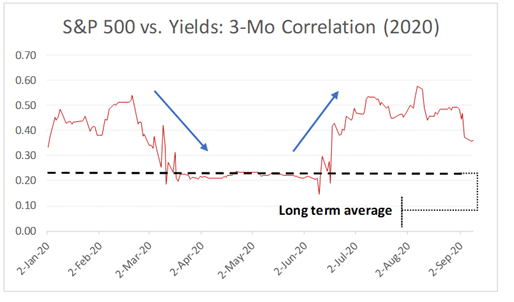 Source: DM Martins Research, data from Yahoo Finance
The other important piece of the puzzle is volatility. While correlations hint at whether two assets continue to complement each other well, volatility informs how much allocation each should received for a portfolio to be properly risk-balanced. As least up to this point, treasury prices have been oscillating very much as they used to, prior to the crisis.
The graph below illustrates the point. TLT's trailing three-month annualized volatility more than doubled in March, while the S&P 500's (SPY) more than quadrupled. Now, both have come down to something much closer to the old normal. The difference in volatility between TLT and SPY is still more heavily tilted towards stocks than usual, but the relationship seems to be heading in the right direction.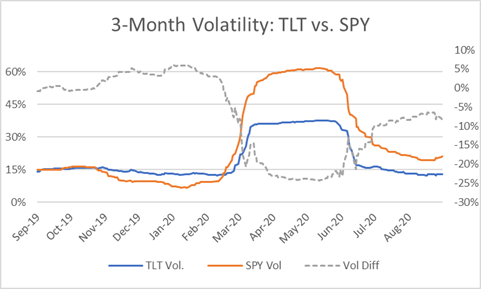 Source: DM Martins Research, data from Yahoo Finance
What to make of it
The observations above lead me to one key conclusion: long-term treasuries, represented in this case by the iShares 20+ Year Treasury Bond ETF, continue to work well as a diversification tool, even in an ultra-low interest rate environment. A portfolio that is allocated to stocks and bonds, therefore, has been well-balanced through this challenging year, and I expect this to continue to be the case going forward.
The key difference now is that, unlike in previous periods, the returns of a diversified portfolio over a multi-year period should come disproportionately more from the equity side of the equation – assuming stocks continue to rise over time. This is the case because long-term treasury returns will likely hover around 1.5% per year compared to something closer to the mid-to-high single digits in the past.
Growth and protection at once
Stocks have been on a very choppy ride in the past few months, and the future looks even more uncertain. But all my SRG portfolios have been beating the S&P 500 in 2020 and since inception, while also producing far superior risk-adjusted returns. To find out how I have created a better strategy to growing your money in any economic environment, click here to take advantage of the 14-day free trial today.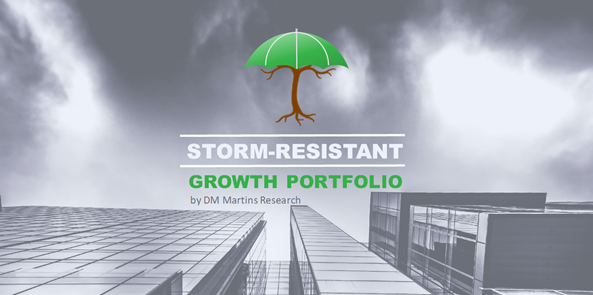 Disclosure: I am/we are long CALL OPTIONS ON TLT. I wrote this article myself, and it expresses my own opinions. I am not receiving compensation for it (other than from Seeking Alpha). I have no business relationship with any company whose stock is mentioned in this article.